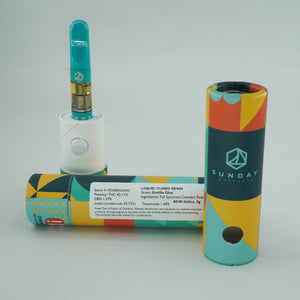 Gorilla Glue
Gorilla Glue is a 60/40 indica dominant hybrid strain created through crossing the infamous Chem's Sister X Sour Dubb X Chocolate Diesel strains. This bud has a spicy chemical chocolate flavor with a heavily diesel exhale that turns slightly sweet.
Info from allbud.com
Cultivated by Red Dirt Sungrown
For more info on testing: https://orders.confidentcannabis.com/report/public/sample/3d89da9f-aa75-4bd4-86ca-f160f2da1b4e
For more info on Instagram: https://www.instagram.com/p/CFFL6Klse2V/
Dispensary Locations
918 Elevate
B's Love Budz
Bud Hut
Buzzn Dispensary
Cali Roots Edmond
Cali Roots- Nichols Hills
Cali Roots- Norman
Cali Roots- OKC
Cali Roots- Stillwater
Canna Club Dispensary
Cannabis Refinery
CannaBus
Cody's Cannabis
Cowboy Cannabis Dispensary LLC
Division Street Dispensary
Electric Lettuce
Elevate Dispensary - Yukon
Elevated Remedies
Emerald Elite T.H.C.
Evolution
Fire Leaf - S Western
Fire Leaf - The Village
Flight 420 - Watts
Freds Farmacopia
Get Bak'd
Good Meds Dispensary
Green Bee Meds
Green Bee Meds - Stillwater
Green Buffalo
Green Country Dispensary
Green Doctor 420 - Edmond
Green Escape
Green Flower Dispensary
Green Leaf Cannabis Norman
Hamilton's Buds and Blooms
Heartland Dispensary
Higher Garden - 119th
Higher Garden - Council
Light Heart Farms
Lotus Gold - Surrey Hills
Main Street Meds
Medicann
Meds N Wares
Namah Cannabis Collective
Natural Remedies
Natural Roots Dispensary
Nature Meds
Next Level Medicine
Oasis Healing Centers
Okie Medicine Flower
Oklahoma Coughy Co
Pharm788
Pinkie's Forest
Redbud Medical MJ
Remedy 46 Extracts (Okie Kush Club)
Royal Tree Productions LLC
Seed Cannabis Co
Sparky McGee
Stillwater Weed
Sunset Medicinals
Terra Wellness
The Green Scene
The High Road
The Honey Pot Shop
The Joint Cannabis Club
The Spunky Skunk
The Stem
Tokelahoma's Finest
Uncle John's Dispensary
Urban Bloom
---