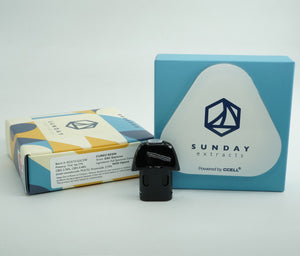 GSC Extreme
Girl Scout Cookies Extreme marijuana strain (not to be confused with the less extreme Girl Scout Cookies strain) is a hybrid between OG Kush and Durban Poison bred in California. Its aroma is lovely: a combination of sweetness and earthiness, along with a delightful high when consumed. This bud has a classic spicy diesel cookie flavor with a notable punch of pungency to it.
Info from allbud.com
For more info on testing: https://orders.confidentcannabis.com/report/public/sample/41679f97-c715-4023-8ee8-04a79e6fd12c
Cultivated by Red Dirt Sungrown
Dispensary Locations
420 Apothecary
Best Buds - Skiatook
Buddies Cannabis Co. Norman
Buds Craft Cannabis
Cali Roots Edmond
Cali Roots- Nichols Hills
Cali Roots- Norman
Cali Roots- OKC
Cali Roots- Stillwater
Canna Club Dispensary
CannaBus
Cody's Cannabis
Cowboy Cannabis Dispensary LLC
Division Street Dispensary
Elemental Progress
Elevate Dispensary - Yukon
Five Starbudz Cannabis Dispensary
Flight 420 - Watts
Get Bak'd
Good Meds Dispensary
Green Country Buds
Green Doctor 420 - Edmond
Green Escape
Green Flower Dispensary
Green Healer
Green Leaf Cannabis Norman
Green Lit Farmacy
Health Express
Heartland Dispensary
Herbal House
Hi Octane - Sallisaw
Hi Octane Cannabis Co.
Hi-Roots
High Voltage Cannabis Co
Higher Garden - Council
Highway 2 Health
Johnny Appleseed
Joint Pain - Waynoka
Lefty's
Likewise Craft
Living Leaf - Moore
Main Street Meds
Med Shed INC
Medicine Wheel Dispensary
Meds N Wares
MedVets
Native Releaf
Natural Remedies
Nature Meds
Oasis Healing Centers
OKind - Broken Arrow
Oklahoma Roots
One Love Wellness
Pharm788
Prestige Cannabis
Releaf Resolution
Roland Natural Health
Secret Garden
Spark Cannabis
Sparky McGee
Stars and Stripes Dispensary
Sticky Nickel LLC
Stillwater Weed
Sunset Medicinals
Sweet

 

Leaf Farmacy
Terra Wellness
The Green Scene
The leafy Sol
The Spunky Skunk
The Summit Cannabis Collective
The Supply Distribution
The Wellness Joint
Top Shelf Medicinlas Poteau
Toppers Herbal Center
Trichome Healing Connection
---