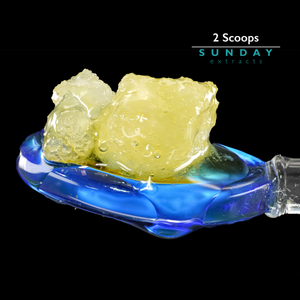 2 Scoops Live Resin Sunday Jam
Sunday Jam is a mix of cured resin concentrate and liquid cured resin. This is our version of diamonds in sauce! 
2 Scoops is a hybrid strain made by crossing Grape Sherbet and Orange Sherbet. The dominant terpene in this strain is caryophyllene, with a pungent nose of creamy orange and earthy grape.
Info from leafly.com
Cultivated by Red Dirt Sungrown
For more info on testing: https://drive.google.com/file/d/15kHZCPUM6LcvWtJ3MXP6lZ4ieHw24JIZ/view?usp=share_link
---