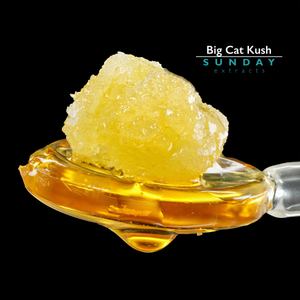 Big Cat Kush Sunday Jam
Sunday Jam is a mix of cured resin concentrate and liquid cured resin. This is our version of diamonds in sauce!
This 70/30 indica dominant hybrid strain is a cross between two heavy hitting, west coast based strains: Mendo Breath and Maximus. You'll notice an aroma that is a blend of citrusy pine, with a hint of gas.
Info from weedmaps.com
Cultivated by Red Dirt Sungrown
For more info on testing: https://drive.google.com/file/d/1AifQ6VnWXtHKuO2VebzkIMISh4CEC5Qs/view?usp=sharing
---