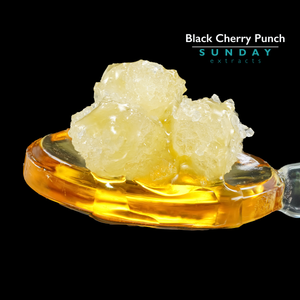 Black Cherry Punch Sunday Jam
Sunday Jam is a mix of cured resin concentrate and liquid cured resin. This is our version of diamonds in sauce! 
Black Cherry Punch is an 80/20 indica dominant hybrid cross between Cherry AK-47 and Purple Punch F2. Its aroma is fruity but skunk-like, and has a soft, sweet berry taste that resembles its parent Purple Punch. 
Info from leafly.com
Cultivated by Red Dirt Sungrown
For more info on testing: https://drive.google.com/file/d/1k8ho2nFu-ZZUzMsqxxSdQ4DXaSr7oJsy/view?usp=sharing
---