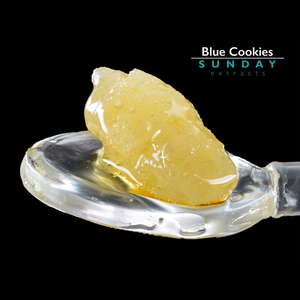 Blue Cookies Sunday Jam
Sunday Jam is a mix of cured resin concentrate and liquid cured resin. This is our version of diamonds in sauce! 
There is some dispute over the true parents of this 90/10 indica-dominant strain: Some sources claim they're F1Durb (an indica-dominant descendant of Durban Poison) and Florida OG (a little known indica). Others say they're Blueberry and Girl Scout Cookies. The flavor is sweet and smooth, with notes of orange, earth, and candy.
Info from allbud.com
Cultivated by Red Dirt Sungrown
For more info on testing: https://drive.google.com/file/d/14uFQupWNQTlDad6KR0YBm4vni3_sNZGL/view?usp=sharing
---