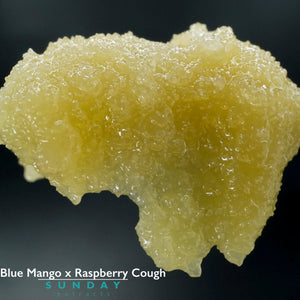 Blue Mango x Raspberry Cough
Blue Mango is an indica-dominant hybrid strain. Some claim it's descended from DJ Short's cut of Blueberry and powerhouse indica William's Wonder while others say it's the product of Mango Kush and the ever-popular Blue Dream. A tropical-tinged blueberry flavor comes through when smoke is exhaled. 
Raspberry Cough is a 70/30 sativa dominant hybrid strain created as a cross between the delicious Cambodian Landrace X ICE strains. The taste is of sweet raspberries that is surprisingly savory with nutty and earthy undertones.
Info from wikileaf.com and allbud.com
Cultivated by Red Dirt Sungrown
For more info on testing: https://orders.confidentcannabis.com/report/public/sample/357ccf63-6fae-486c-9ee3-0b901d4e19fe
For more info on Instagram: https://www.instagram.com/p/CFFHxaUsNLn/
Dispensary Locations
Barn 66 Dispensary
BCG Dispensary
Best Buds - Skiatook
Big Buds
Cali Roots- Norman
Cali Roots- OKC
Cali Roots- Stillwater
Canna Club Dispensary
CannaBus
Classen Kush House
Cody's Cannabis
Cowboy Cannabis Dispensary LLC
Elevate Dispensary - Yukon
Emerald Alley
Emerald Elite T.H.C.
Ethos Wellness
Fire Leaf - Norman
Fire Leaf - SW 104th
Flight 420 - Watts
Get Bak'd
Giggyly Bush
Green Acres Dispensary
Green Bee Meds - Stillwater
Green Buffalo
Green Escape
Head Shop Dispensary
Heartland Dispensary
Herbal House
Herbal Releaf Dispenary
Herban Pharmhouse
Hi-Roots
High Society
Higher Garden - 119th
Higher Garden - Council
Irie Okie, LLC
Joint Pain - Waynoka
K for Kush
Likewise Craft
Med Shed INC
Medicann
Meds N Wares
Native Cannabis Co
Native Harvest
Native Releaf
Natural Healing Remedies
Natural Remedies
Natural Roots Dispensary
Nature Meds
Next Level Medicine
Oasis Healing Centers
Okie Medicine Flower
Oklahoma Green
Oklahoma Roots
One Love Wellness
OZ Dispensary
Pharm788
Pirpich Industries (Big Buds Too)
Prestige Cannabis
Primetime Buds
Releaf Clinic West
Roland Natural Health
Secret Garden
Seed Cannabis Co
Spark Cannabis
Sparky McGee
Stars and Stripes Dispensary
Stillwater Weed
Sugar Shack So Cal LLC
Sunset Medicinals
Sweet

 

Leaf Farmacy
The Budologist
The Green Scene
The High Road
The Honey Pot Shop
The Loud Flower
The Spunky Skunk
The Summit Cannabis Collective
The Supply Distribution
Top Shelf Medicinals Sallisaw
Urban Bloom
Vertica - OKC
---