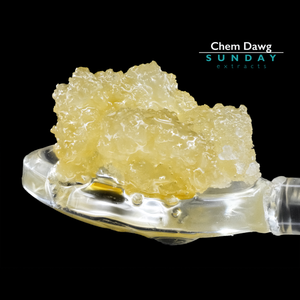 Chem Dawg Live Resin Sunday Jam
Sunday Jam is a mix of cured resin concentrate and liquid cured resin. This is our version of diamonds in sauce!
Chem Dawg is a 55/45 indica dominant hybrid strain. It has a powerful spicy, plant-like taste and smell with a hint of diesel. Little is known about Chemdawg's history or genetics, though there are urban legends involving a Grateful Dead concert, a handful of seeds, and a grower named Chemdog.
Info from allbud.com
Cultivated by Red Dirt Sungrown
For more info on testing: https://drive.google.com/file/d/1rFWYGlijg9lZNavNrIM3Zja_wVxOZwBS/view?usp=sharing
---