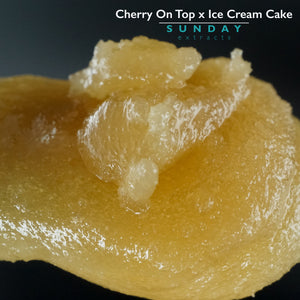 Cherry on Top x Ice Cream Cake
Cherry On Top is an 80/20 indica dominant hybrid crossing Cherry Pie and Sundae Driver. The flavor is sweet cherry and chocolate with a lightly sugary fruity exhale. 
Ice Cream Cake is a 75/25 indica dominant hybrid created through a cross of the Gelato 33 X Wedding Cake strains. Ice Cream Cake packs a super delicious cheesy creamy flavor with a sweet nuttiness that lingers long after you finish your final toke.
Info from weedmaps.com, clonesonfire.com, and allbud.com
Cultivated by Red Dirt Sungrown
For more info on testing: https://orders.confidentcannabis.com/report/public/sample/d5c64641-3506-4972-92f6-252e63256245
For more info on Instagram: https://www.instagram.com/p/CGNUKhTsbRu/
Dispensary Locations
405 Releaf
918 Elevate
Affordable Cannabis Dispensary
Cali Roots Edmond
Cali Roots- Nichols Hills
Cali Roots- Norman
Cali Roots- OKC
Cali Roots- Stillwater
Canna Club Dispensary
Canna Culture Dispensary
Cannabis Refinery
CannaBus
Central Purp
Division Street Dispensary
DreamLux
Elevate Dispensary - Yukon
Evolution
Fire Leaf - The Village
Get Bak'd
Good Meds Dispensary
Grade A Dispensary
Green Bee Meds
Green Buffalo
Green Doctor 420 - Edmond
Green Flower Dispensary
Green Healer
Green Health Clinic
Green Lit Farmacy
Green Love
Heartland Dispensary
Herban Pharmhouse
High Voltage Cannabis Co
Higher Garden - Council
Higher Ground Dispensary
Highest Releaf
Hometown Stash
K for Kush
Kind Alternative
Mary Jane 918
Medicann
Meds N Wares
MedVets
Midwest Cures
Namah Cannabis Collective
Native Brothers
Native Releaf
Natural Healing Remedies
Natural Remedies
Next Level Medicine
Oasis Healing Centers
Okie Kush Club
Okie Medicine Flower
OKind - Broken Arrow
Okind - Sapulpa
Pirpich Industries (Big Buds Too)
Ponca City 420 Degrees
Primetime Buds
PureRX Collinsville
Roland Natural Health
Sage Wellness
Sparky McGee
Stability Cannabis
Stars & Stripes Western
Stillwater Weed
The Green Scene
The High Road
The Honey Pot Shop
The leafy Sol
The Natural Way
The Spunky Skunk
Vertica - Norman
Vertica - OKC
Wagon Hill
World Of Weed
---