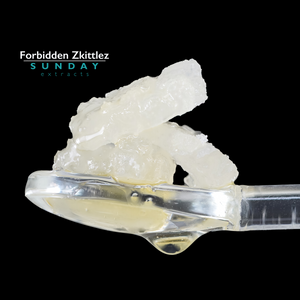 Forbidden Zkittlez Live Resin Sunday Jam
Sunday Jam is a mix of cured resin concentrate and liquid cured resin. This is our version of diamonds in sauce!
Forbidden Zkittlez is a 60/40 indica dominant hybrid strain created through crossing the classic Forbidden Fruit X Mendocino Royal X California Black Rose strains. Forbidden Zkittlez has a delicious flavor, with hints of sweet fruits and spicy grapes.
Info from allbud.com
Cultivated by Red Dirt Sungrown
For more info on testing: 
https://drive.google.com/file/d/1uhW5uBFDoHgygMcSr2CGwv8rBChVM4C3/view?usp=sharing
---