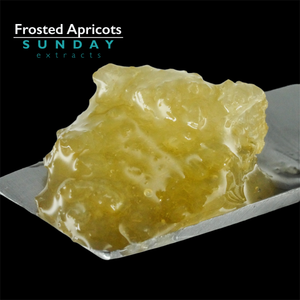 Frosted Apricots Sunday Jam
Sunday Jam is a mix of cured resin concentrate and liquid cured resin. This is our version of diamonds in sauce! 
Frosted Apricots is a 70/30 sativa cross between Irene Apricot x Slurricane #7. The Irene Apricot in this cross brings loud Apricot Jam and Apricot juice, backed up by kerosene and grapes in some expressions.
Cultivated by Red Dirt Sungrown
For more info on testing: 
https://drive.google.com/file/d/1qHj1yXVqAPUdRT5sx326SDfBlgPci9h3/view?usp=sharing
---