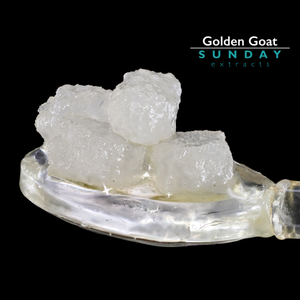 Golden Goat Live Resin Sunday Jam
Sunday Jam is a mix of cured resin concentrate and liquid cured resin. This is our version of diamonds in sauce! 
Golden Goat is a 70/30 Sativa-dominant cross between a male Hawaiian-Romulan and a female Island Sweet Skunk. This strain is reported to have been created in Kansas as a result of an unplanned pollination event between the Hawaiian father and Sweet Skunk mother, and first made available in Colorado in 2009.
Info from weedmaps
Cultivated by Red Dirt Sungrown
For more info on testing: https://drive.google.com/file/d/10Ft2HPbeedmozWvDavbyI8s3OvAUIRcn/view?usp=sharing
---