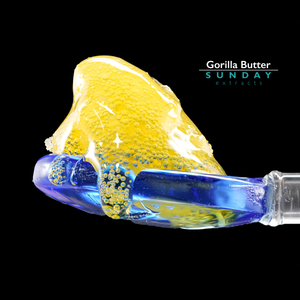 Gorilla Butter Sunday Jam
Sunday Jam is a mix of cured resin concentrate and liquid cured resin. This is our version of diamonds in sauce! 
Gorilla Butter, also known as "Gorilla Butter F2 #12" and "Gorilla Butter F2," is a 50/50 hybrid strain made by crossing Peanut Butter Breath with GG4.. Gorilla Butter produces an earthy aroma with smooth and creamy flavors. You might even taste notes of garlic and gas. 
Info from leafly.com
Cultivated by Red Dirt Sungrown
For more info on testing: https://drive.google.com/file/d/1zwORw6bjb1YbCJufU_J3-Dloyeu89czi/view?usp=sharing
---