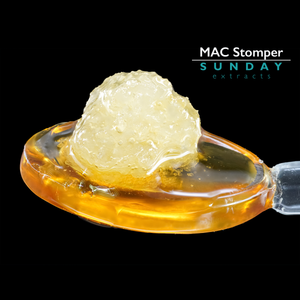 MAC Stomper Sunday Jam
Sunday Jam is a mix of cured resin concentrate and liquid cured resin. This is our version of diamonds in sauce! 
M.A.C. Stomper, bred by Capulator, is a sativa leaning hybrid strain that is a cross between MAC #1 and Grape Stomper OG. It has a fruity profile of fresh citrus and grapes.
Info from flwrpot.com and theorywellness.org
Cultivated by Red Dirt Sungrown
For more info on testing: https://drive.google.com/file/d/1qpzbfQljTdiuZIYEh6NSj0f4dJYvdeqz/view?usp=sharing
---