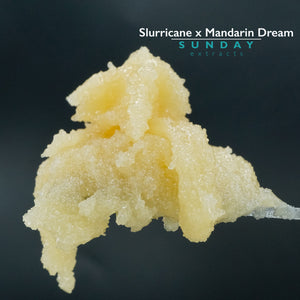 Slurricane x Mandarin Dream
Bred by In House Genetics, Slurricane crosses Do-Si-Dos and Purple Punch. This pungent, indica-dominant hybrid's terpene profile pushes heavy aromas of creamy OG with undertones of tropical blueberries.
Mandarin Dream is a 50/50 hybrid strain created through crossing the classic Stormtrooper #12 X Mandarin Sunset strains. This bud has a dreamy delicious sour citrus flavor with a lightly herbal creamy exhale.
Info from allbud.com and leafly.com
Cultivated by Red Dirt Sungrown

For more info on testing: https://orders.confidentcannabis.com/report/public/sample/271e9c13-a03b-40e3-a78f-f6c7d0d5951d
For more info on Instagram: https://www.instagram.com/p/CFXRGtFsraZ/
Dispensary Locations
405 Budz
420 Apothecary
66 Dispensary
Barn 66 Dispensary
Best Buds - Skiatook
Botanical Cloud Co
Buzzn Dispensary
Cali Roots Edmond
Cali Roots- Nichols Hills
Cali Roots- Norman
Cali Roots- OKC
Cali Roots- Stillwater
Canna Club Dispensary
Canna Culture Dispensary
Cannabis Refinery
CannaBus
Cody's Cannabis
Division Street Dispensary
Electric Lettuce
Elevate Dispensary - Yukon
Emerald Alley
Emerald Leaf Apothecary
Evolution
Fire Leaf - Guthrie
Fire Leaf - SW 104th
Fire Leaf - The Village
Firehouse Dispensary - Moore
Flight 420 - Watts
Flight Club
Get Bak'd
Giggyly Bush
Green Buffalo
Green Doctor 420 - Edmond
Green Escape
Green Healer
Green Love
Green Temple
Heartland Dispensary
Hi Octane Cannabis Co.
Hi-Roots
High Voltage Cannabis Co
Higher Garden - 119th
Higher Garden - Council
Joint Pain - Waynoka
Kind Alternative
Lefty's
Likewise Craft
Lit Cannabis Club
Living Leaf - Moore
Mango Cannabis- Edmond
Med Shed INC
Medicann
Medicine Wheel Dispensary
Meds N Wares
MedVets
Native Harvest
Natural Healing Remedies
Next Level Medicine
Oasis Healing Centers
Okie Kush Club
Oklahoma Green
Oklahoma Roots
One Love Wellness
One15Green
OZ Dispensary
Pirpich Industries (Big Buds Too)
Ponca City 420 Degrees
Prestige Cannabis
Primetime Buds
Purple Moon
Releaf Clinic West
Ringside Medical
Roland Natural Health
Spark Cannabis
Starbuds - Norman
Stars and Stripes Dispensary
Stillwater Weed
Sunset Medicinals
Sweet

 

Leaf Farmacy
The Classen Collective
The High Road
The Honey Pot Shop
The Natural Way
The Peace Pipe
The Summit Cannabis Collective
The Supply Distribution
Tokelahoma's Finest
Tonkawa Medical Dispensary
Urban Leaf Company, LLC
Vertica - OKC
Woke Wellness
---