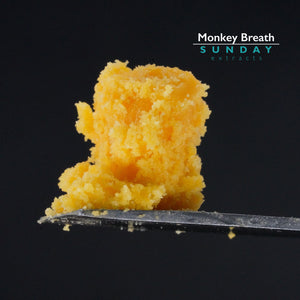 Monkey Breath Concentrate
Monkey Breath is an 80/20 Indica dominant hybrid strain. This bud has a rich chocolaty diesel flavor with a touch of vanilla and earth to it.
Cultivated by Nexleaf
Info from quadzillacannabis.com
For more info on testing: https://orders.confidentcannabis.com/report/public/sample/cc896f19-1360-4333-b7b4-e72f6eb53cd6
For more on Instagram: https://www.instagram.com/p/CKbpl0IsJAu/ 
Dispensary Locations
918 Elevate
BCG Dispensary
Border Buds
Botanical Cloud Co
Buzzn Dispensary
Canna Club Dispensary
CannaBus
Cannatopia - Tulsa
Division Street Dispensary
Fire Leaf - Norman
Fire Leaf - Reno
Fire Leaf - The Village
Five Starbudz Cannabis Dispensary
Flight 420 - Watts
Green Bee Meds
Green Flower Dispensary
Green Leaf Solutions
Green Vibes
Hi-Roots
High Society
Higher Garden - 119th
Higher Garden - Council
Kind Alternative
Lefty's
Legal Limit
Lense 22 Society
Lifted Spirits - Muskogee
Lifted Spirits - Talequah
Likewise Broadway
Likewise Craft
Likewise Stillwater
Lit Leaf Cannabis
Namah Cannabis Collective
Natural Healing Remedies
Natural Remedies
Nectar
Okie Kush Club - Edmond
Okie Kush Club - Moore
Okie Kush Club - Norman
Okind - Sapulpa
One Love Wellness
Pirpich Industries (Big Buds Too)
Primetime Buds
Seed Cannabis Co
Stars & Stripes Western
Stillwater Weed
Stoned 4 Survival
Straight Laced Dispensary
Sweet

 

Leaf Farmacy Durant
The Honey Pot Shop
The leafy Sol
Urban Bloom
Vertica - OKC
Waves- GVT Group LTD. Co.
---