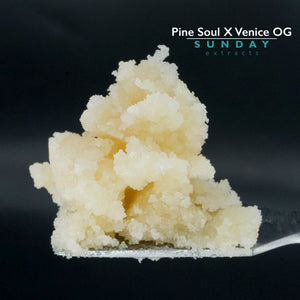 Pine Soul x Venice OG
Pine Soul OG is an indica dominant hybrid that provides a happy, focused experience with a cerebral calmness. This cultivar has a strong piney aroma with a diesel aftertaste indicative of its OG roots. 
Info from gardenstatedispensary.com 
Venice OG is a heavily sativa dominant hybrid (90% sativa/10% indica) strain that gets its name from its city of origin, Venice Beach. This dank bud has unknown genetics due to breeder secrecy and boasts a THC level ranging from 15-18% on average. Venice OG has an aroma of pungent citrus pine and a taste of peppery citrus with a pine aftertaste upon exhale. Venice OG buds have small to medium-sized dense round forest green nugs with a spattering of furry dark orange hairs and lots of olive green leaves.
Info from leafly.com and allbud.com
Cultivated by Red Dirt Sungrown
For more info on Instagram: https://www.instagram.com/p/CEPEEpQB81S/
For more info on testing: https://orders.confidentcannabis.com/report/public/sample/f51e4bc3-eb4f-4ea9-9f34-a35b9d43fa12
---