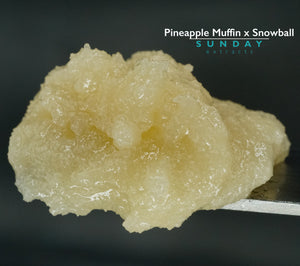 Pineapple Muffin x Snowball
Humboldt Seed Company took their popular Blueberry Muffin and crossed it with their flavorful Pineapple Trainwreck (Pineapple Express x Trainwreck) to create a fruity, muffiny delight.  This calming indica dominant strain has flavor like a fresh batch of pineapple muffins on an island's winter day.
Snowball is a 70/30 indica dominant hybrid strain created through crossing the classic The White X Chem 4 OG S1 strain. The taste is of sour citrus accented by a creamy exhale packed full of savory diesel.
Info from harmonydispensary.com and allbud
Cultivated by Red Dirt Sungrown
For more info on testing: https://orders.confidentcannabis.com/report/public/sample/a559953f-9d8c-4c34-a16d-b4c83afb6dba
For more info on Instagram: https://www.instagram.com/p/CFXRMgqs4pe
Dispensary Locations
405 Budz
918 Elevate
B & B Alternatives (The Remedy)
Best Buds - Skiatook
Bison Cannabis
Botanical Cloud Co
Buzzn Dispensary
Cali Roots Edmond
Cali Roots- OKC
Cali Roots- Stillwater
Canna Club Dispensary
Canna Culture Dispensary
Cannabis Refinery
CannaBus
Cody's Cannabis
Division Street Dispensary
Elevate Dispensary - Yukon
Elevated Remedies
Emerald Alley
Evolution
Fire Leaf - The Village
Flight 420 - Watts
Flight Club
Get Bak'd
Giggyly Bush
Good Meds Dispensary
Green Buffalo
Green Doctor 420 - Edmond
Green Escape
Green Healer
Head Shop Dispensary
Herbal House
Hi Octane Cannabis Co.
Hi-Roots
High Voltage Cannabis Co
Higher Garden - 119th
Higher Garden - Council
Irie Okie, LLC
Joint Pain - Waynoka
Judes Farms
Keystone Cannabis
Likewise Craft
Living Leaf - Moore
Lotus Gold - Surrey Hills
Mango Cannabis- Edmond
Med Shed INC
Medicann
Meds N Wares
MedVets
Native Harvest
Natural Healing Remedies
Natural Remedies
Next Level Medicine
Oklahoma Roots
One Love Wellness
One15Green
OZ Dispensary
Pharm+House
Pirpich Industries (Big Buds Too)
Ponca City 420 Degrees
Prestige Cannabis
Primetime Buds
Purple Moon
Releaf Clinic West
Ringside Medical
Roland Natural Health
Spark Cannabis
Stars and Stripes Dispensary
Stillwater Weed
Sweet

 

Leaf Farmacy
Tegridy Market
The Classen Collective
The Highway Connection
The Honey Pot Shop
The Joint Cannabis Club
The Summit Cannabis Collective
The Supply Distribution
Tokelahoma's Finest
Tonkawa Medical Dispensary
Two Rivers Cannabis Company
Venture Wise DBA Canna Wise
Vertica - Norman
Vertica - OKC
---