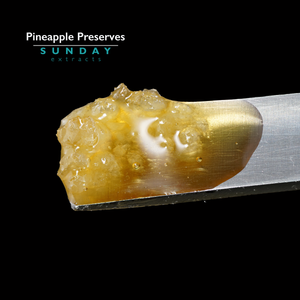 Pineapple Preserves Sunday Jam
Sunday Jam is a mix of cured resin concentrate and liquid cured resin. This is our version of diamonds in sauce!
Pineapple Preserves is a 50/50 hybrid. This strain has a tropical flavor with hints of pungent passion fruit and pineapple. There is also a trace of earthy hash. 
Info from weedmaps.com
Cultivated by Red Dirt Sungrown
For more info on testing: https://drive.google.com/file/d/1WlgmygYOviSWw7gBHz8IlR8yxuGw41B7/view?usp=sharing
---