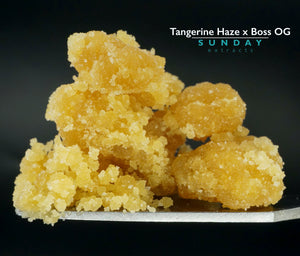 Tangerine Haze x Boss OG
Tangerine Haze is a powerful Sativa dominant strain that is produced by combining Haze, NYCD and G13 together. This hybrid has an Indica/ Sativa content of 60/40 percent. It has green colored buds with a few hairs. It has a lovely zesty aroma that has a strong tangerine undertone. It has a strong floral flavor at the end. Its smoke is very smooth and feels good inside. The strain has a lovely tangerine flavor with a floral and sweet taste. It an excellent strain for smoking during the daytime as it refreshes and energizes you. It has a powerful but very calming high. 
Boss OG is a rare evenly balanced hybrid strain (50% indica/50% sativa) that was created as a phenotype of the infamous OG Kush. With its celebrity heritage, you know you're in for one crazy ride with Boss OG. This bud takes the classic effects of OG Kush and balances them out perfectly, for a high that hits both mind and body. The Boss OG high starts with cerebral effects, inching its way into your brain before taking hold with a lifted sense of euphoria. You'll feel a tingly onset of creative energy that won't leave your brain at all. Rather, your body will start to settle into a state of pure relaxation as your mind soars to new heights. . This bud has a classic sweet flowery pine flavor with hints of rich earth and herbs upon exhale. The aroma is very earthy and woody with a lemony pine overtone that has a touch of spicy florals to it. 
Information from allbud.com
---