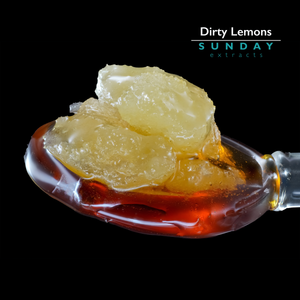 Dirty Lemons Sunday Jam
Sunday Jam is a mix of cured resin concentrate and liquid cured resin. This is our version of diamonds in sauce! 
Dirty Lemons is a 70/30 Indica dominant hybrid strain that brings the legendary Ohio Lemon G and the ever powerful Chem D x I95 together for a mix of strong citrus and lemon flavors.
Info from iheartjane.com
Cultivated by Red Dirt Sungrown
For more info on testing: https://drive.google.com/file/d/1iU6TMyiUZUyqIIvp1iy_wFnDF0P5SGxu/view?usp=share_link
---