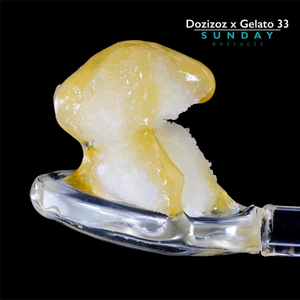 Dozizoz x Gelato 33 Sunday Jam
Dozizoz is a 60/40 indica dominant hybrid strain created through crossing the classic Zkittlez X (Zkittlez X Do-Si-Dos) strains. 
Dozizoz has a super sweet and fruity berry candy flavor with a nutty and creamy apple exhale, almost like a freshly baked pie with cream.
Gelato 33 is a hybrid marijuana strain made by crossing Sunset Sherbet and Thin Mint GSC. Flavors are sweet citrus and fruity.
Info from leafly.com and allbud.com
Cultivated by Red Dirt Sungrown
For more info on testing:https://drive.google.com/drive/folders/1mLgGTPi7ZQhhPrnywVL_n8oDHYkqZTs9?usp=share_link
---