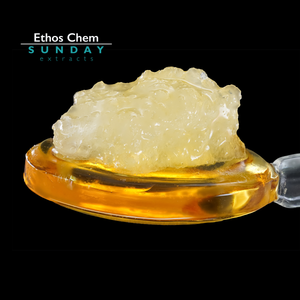 Ethos Chem Live Resin Sunday Jam
Sunday Jam is a mix of cured resin concentrate and liquid cured resin. This is our version of diamonds in sauce! 
OG Chem, or "Chem OG ," is a 70/30 sativa dominant hybrid strain created through a powerful cross of the classic infamous Chemdawg X OG Kush strains. The flavor has an ammonia overtone that's grounded by a taste of fresh earth. 
Cultivated by Red Dirt Sungrown
Info from allbud.com
For more info on testing:https://drive.google.com/drive/folders/1mLgGTPi7ZQhhPrnywVL_n8oDHYkqZTs9?usp=share_link
---