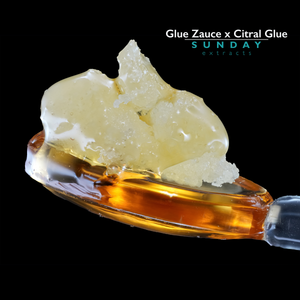 Glue Zauce x Citral Glue Sunday Jam
Sunday Jam is a mix of cured resin concentrate and liquid cured resin. This is our version of diamonds in sauce! 
Glue Zauce is a 70/30 indica dominant hybrid cross between a special S1 pheno of Gorilla Glue #4 X ZOZ BX Zkittlez. The top reported aromas of Glue Zauce are gas, tropical fruit, and chocolate, and it is said to taste the same.
Citral Glue is a 60/40 indica dominant hybrid strain created through crossing GG#4 X Citral Skunk strains. This bud has as sharp sour citrus flavor with a dank herbal skunky exhale.
Cultivated by Red Dirt Sungrown​
information from Green Fire Genetics weedmaps.com
For more info on testing: https://drive.google.com/file/d/1pyT8GlRtb2JB5J9Inaj4OoV-k0ekGgF8/view?usp=share_link
---