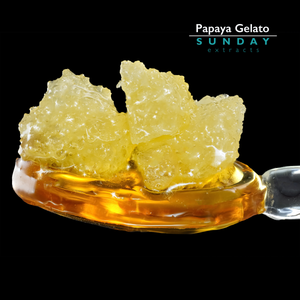 Papaya Gelato Sunday Jam
Sunday Jam is a mix of cured resin concentrate and liquid cured resin. This is our version of diamonds in sauce! 
Papaya is a 60/40 indica-dominant strain made from a cross of Citral #13 and Ice #2. The taste is similar to its tropical fruit counterpart, but a spicy, peppery side also becomes apparent.
Info from allbud.com and weedmaps.com
Cultivated by Red Dirt Sungrown
For more info on testing: 
https://drive.google.com/drive/folders/1mLgGTPi7ZQhhPrnywVL_n8oDHYkqZTs9?usp=share_link
---