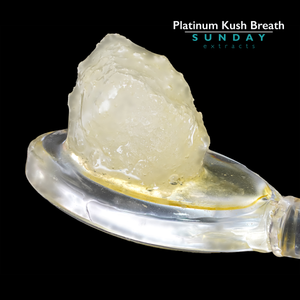 Platinum Kush Breath Live Resin Sunday Jam
Sunday Jam is a mix of cured resin concentrate and liquid cured resin. This is our version of diamonds in sauce! 
Platinum Kush Breath, also known as OG Kush Breath, is a 70/30 Indica dominant hybrid strain and is said to be the distinct phenotype of the ubiquitous Girl Scout Cookies and has been used to cross breed the award-winning OGKB 2.0. The flavor is tropical and sweet with diesel.  
Cultivated by Red Dirt Sungrown
For more info on testing: https://drive.google.com/drive/folders/1mLgGTPi7ZQhhPrnywVL_n8oDHYkqZTs9?usp=share_link
---