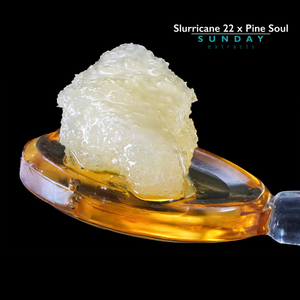 Slurricane 22 x Pine Soul Live Resin Sunday Jam
Sunday Jam is a mix of cured resin concentrate and liquid cured resin. This is our version of diamonds in sauce! 
Bred by In House Genetics, Slurricane crosses Do-Si-Dos and Purple Punch. This pungent, 60/40 indica-dominant hybrid's terpene profile pushes heavy aromas of creamy OG with undertones of tropical blueberries.
Pine Soul is a 75/25 indica dominant hybrid strain created through crossing the potent Nepali OG X Snow Lotus strains. When it comes to the flavor of this bud, the name says it all. Pine Soul packs a super woody pine flavor with touches of sweet fruitiness to it too.
Cultivated by Red Dirt Sungrown
For more info on testing: https://drive.google.com/drive/folders/1mLgGTPi7ZQhhPrnywVL_n8oDHYkqZTs9?usp=share_link
---