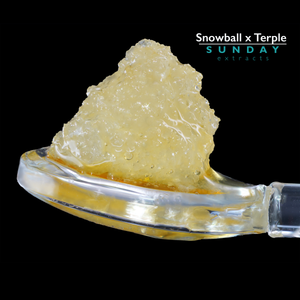 Snowball x Terple Sunday Jam
Sunday Jam is a mix of cured resin concentrate and liquid cured resin. This is our version of diamonds in sauce! 
Snowball is a 70/30 indica dominant hybrid strain created through crossing the classic The White X Chem 4 OG S1 strain. The taste is of sour citrus accented by a creamy exhale packed full of savory diesel.
Terple is a 60/40 indica dominant hybrid strain created from a cross of Tropicana Cookies and Slurricane #7. This strain has an aroma of Blueberry, Bubble gum, Taffy and citrus along with more subtle tones such as rose petal and hibiscus.
Info from allbud.com
Cultivated by Red Dirt Sungrown
For more info on testing: https://drive.google.com/drive/folders/1mLgGTPi7ZQhhPrnywVL_n8oDHYkqZTs9?usp=share_link
---