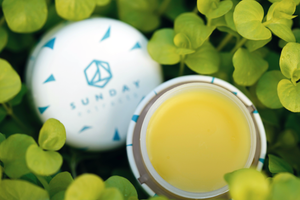 Sunday 1:1 Salve
Sunday 1:1 salve, is a carefully curated all natural and organic product made with THC and CBD distillate, olive, coconut, lavender, and tea tree oil, beeswax, cacao butter, and cannabis derived hydrosol. The versatility of this product is the best part, you can apply it anywhere to soothe muscle and joint pain and dry skin. We love to use it as lip and cuticle balm! This is one of the most concentrated salves on the market. 
About cannabis derived hydrosol:
Hydrosols, also known as "flower waters," are produced by steam or vacuum distillation. The hydrosol is typically the water produced from terpene extraction, in our case it's cannabis terpenes! With similar properties to essential oils, these aromatic waters are much less concentrated. Their aromas are often soft and subtle when compared to their essential oil counterpart. These aromatic products usually have a scent similar to their essential oil, but also can have a greener note. This comes from the water soluble constituents in the plant material that are not present in the essential oil.
Uses for 1:1 Salve:
•nourishes skin with vitamins, minerals, and natural fatty acids
•muscle, joint, and back pain
•inflammation and swelling
•neuropathy
•arthritis
•nerve damage
•bug bites and hives 
•bruising and sprains 
•moisturize dry skin, lips, hair, face, wrinkles, stretch marks and sunburns
•soothe mild rashes and blisters
•post workout recovery
•repairing hand and foot cream
•strenuous physical activity like hiking, biking, running, or camping
Contact us via IG or email for product locations
---